Press
25 March 2020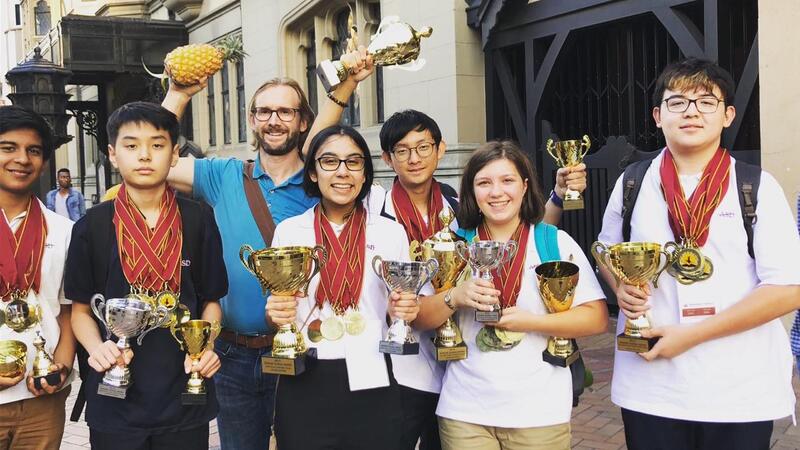 Our mission at the American School of Dubai is to challenge and inspire each student to achieve their dreams and to become a passionate learner prepared to adapt and contribute in a rapidly changing world. This mission has been our focus for over 50 years, and along the journey of achieving this, we've been successful in a number of local, regional, and international awards—we don't do it for the awards, but we're proud that we have been recognized for all of our hard work.
In 2019, we scooped up the Best American Curriculum School of the Year in the SchoolsCompared.com Top School awards. A win that was made even more special due to the fact the awards include an open nomination for parents to vote. Continuing the success, we also secured an award with Knowledge Review Magazine which highlights institutions in the region who have impeccable educational standards and who relentlessly contribute towards nurturing the next generations of Dubai. For these awards, we were named as one of the Best International Schools in Dubai 2019 which was a key achievement for us all. Having a healthy workplace environment for teachers and staff is just as important to us as providing it for our students, so it was a pleasure to be the first educational institution designated as a Great Place to Work in the UAE. 
At ASD we ensure all students are future-ready, not just academically, but by being aware of the importance of protecting and preserving our planet, and we strive to run our school as sustainably as possible to create a meaningful impact on the community. Thanks to our efforts, most recently we were the lucky recipient of the 2020 GESS Education Award for Ambassador for the Environment. The 7th edition of the awards recognized the achievements of one outstanding business or individual in the field of education from 11 countries worldwide. Other sustainability accolades included the honor of an award last year by the Zayed Sustainability Prize in the Global High Schools category for the MENA region. Due to our ongoing sustainability efforts, we received this prize which also came with a $100,000 award. With that we purchased an industrial composter, created our Bee Garden, and established a data dashboard. 
After installing solar panels on campus, a prize we won during the first Expo 2020 'Sustainability Champions' Programme, we significantly reduced our campus energy consumption and have since saved over 28.5 tonnes of CO2 emissions. We've also earned the highest level of recognition from Eco-Schools' with a Green Flag Award. After receiving ongoing support from the entire Eco-Schools Advisory Board to help us address the most applicable environmental problems, we're delighted that we can continue the journey and take even more environmental action. 
With awards across sustainable practices, workplace environment, and academic excellence—we're delighted to be associated with a selection of organizations that serve to support student achievement, professional learning, and community relations. To find out more about ASD, inquire now or book a tour.