ASD seeks to develop the whole child. Students are encouraged to ask questions, think deeply, create, challenge themselves, explore their curiosities, and be producers—not just consumers—of knowledge. ASD graduates are not only college and career-bound, but reflective thinkers, effective communicators, and role models. 
The High School experience extends far beyond the classroom walls. Outside the classroom, learning is made relevant through self-directed learning, experiential travel, and service learning as well as extracurriculars in the arts, athletics, aquatics, campus recreation, and student organizations. 
Unique Programs
AP & AP Capstone Diploma
Students can choose from 25 Advanced Placement courses including AP Capstone, a culminating two-year credential program in which students complete in-depth research on world phenomena. Please see the Course Description Guide below for more details.
Online Learning
Students have an opportunity to engage in self-directed learning through Global Online Academy—ASD's partner for online-learning courses in the High School. GOA's mission is to reimagine learning to empower students and educators to thrive in a globally networked society.
Advanced Elective Studies
Students pursue topics of interest and passion through the wide variety of rigorous electives.
INSPIRE Global Experiences
Students have a unique opportunity meant to help them demonstrate a passion for learning and contribute in a rapidly changing world by addressing a challenge, an opportunity, or a situation. This is done through cultural, eco-adventurous, or service learning experiences. Choices for 2023 include 8 opportunities in 7 countries: Nepal, Kenya, Switzerland, Spain, Hungary, Austria and the United Kingdom. INSPIRE stands for Immersion, New experiences, Service, Professional, Internships, Relationships, and Eco-adventure.
Service Learning
Students engage in and lead on-campus, community-wide, and global sustainability initiatives and service learning projects.
Counseling
The ASD HS Counseling Office offers a personalized approach to student development, academic advisement, and college planning
High School Course Catalog
The High School offers a variety of courses that support students' academic goals and personal interests. 
Meet Kristine Stamp-Jerabek
High School Principal
Kristine Stamp-Jerabek joins ASD after more than 20 years of leading and teaching in international schools. She has served as a Secondary Principal in Colombia, a High school Principal and Academic Head in South Korea, and a middle/high school English teacher in Taiwan, Bulgaria, and the United States.  Kristine has a Bachelor's Degree in English and Literature from the University of North Texas and a Master's degree in Special Education from the University of Wisconsin-Madison.  She also possesses a principal's license from the State of Texas.  Kristine's passion in leadership stems from her passion as a literature teacher: being curious, finding common ground, and constructing  meaning. She strives to facilitate learning communities that create meaningful connections by encouraging co-agency and leveraging resources for the benefit of all.
Image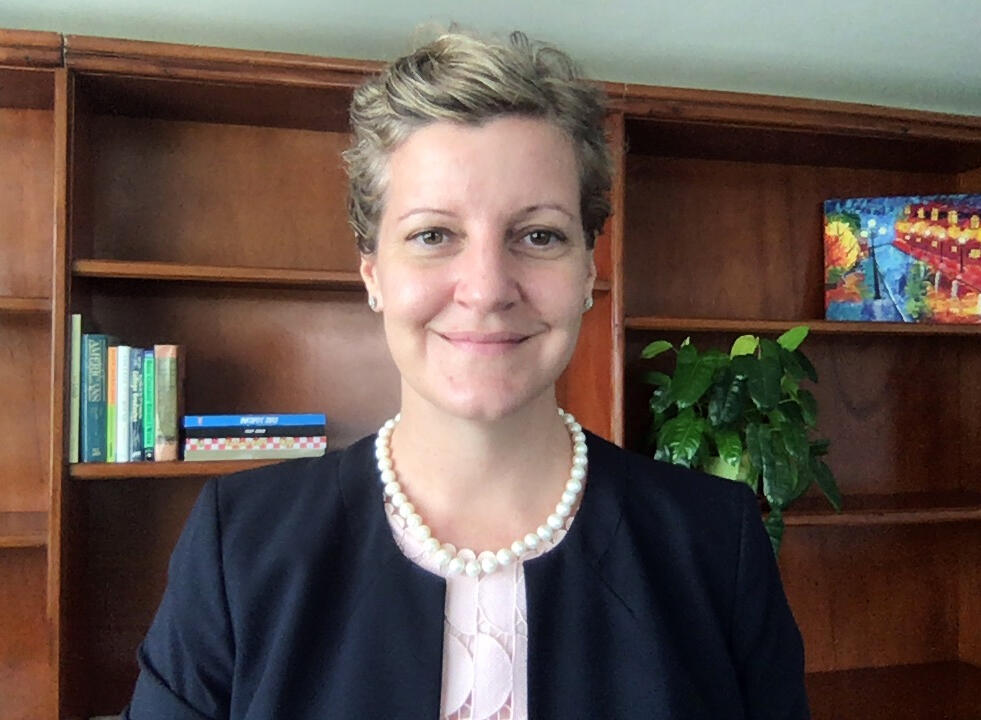 Recently trying to become more fluent in Spanish while my 4-year-old children 'acquired' it!
A temple-stay in Koyasan, Japan
My first-grade teacher who instilled in me a love of reading.
Publications
American School of Dubai High School Profile 2022-2023
Academic Program
The ASD High School provides a challenging college preparatory program, offering what is best about American education by providing learning experiences that promote the maximum potential of students. ASD is aligned with Common Core State Standards and follows a Standards Based grading scale helping to prepare students for college and careers beyond high school.
The minimum graduation credit requirement for ASD high school students is 25 credits. In a four-year program, students have the option to enroll in a total of 32 credits. Each year, high school students enroll in at least four of ASD's core academic courses: math, science, social studies, English, and world language. A broad range of electives is offered in creative arts, physical education, and information technology to allow students the flexibility to discover their co-curricular interests and abilities. In Grades 10, 11, and 12, students also have the opportunity to enroll in Advanced Placement (AP) courses.
The school year consists of two semesters. Students follow a block schedule, alternating between four 80‐minute classes on one day, and four other 80‐minute classes the next day.
The ASD school year typically runs from August to June, with a winter holiday that starts in December and a spring break, which is usually in March/April. 
ASD offers 25 Advanced Placement (AP) courses sponsored by the College Board in the United States. These AP courses are equivalent to first-year college courses and are intended for students who possess proven ability, interest and motivation. Students receive 0.25 additional weight to their GPA.
Students enrolled in AP classes take the AP College Board exam at the end of the course. Depending on the exam score and the university or college, students can qualify for course credit, exemption from courses or advanced standing.
ASD is one of a select number of international schools that offer the AP Capstone Program, a two-year credential program for students who show high levels of academic commitment, interest, and ability. To receive the AP Capstone Diploma, students complete a minimum of four AP content courses, a research skills seminar course and an independent research project.
Please see the HS Course Catalog for a full list of AP courses offered.
Class of 2022 Snapshot
175
Senior students at ASD
26
Nationalities represented
66%
Have studied at ASD throughout high school
19
'Lifers' have studied at ASD K-12
42%
Hold leadership positions in student organizations
Class Of 2021
2
AP International Diplomas
Matriculation 2019-2021
97%
Colleges & Universities